This post contains affiliate links and I will receive a small commission if you make a purchase after clicking on my link.
Flip-flops storage solution?
It is summer!  I see people with flip-flops everywhere. I was wondering how they store flip-flop at home because my family, actually, do have only one flip-flop. We have a few pairs of sandals and water shoes, but only one flip-flop. I just don't like them much. I wear them when I go to the beach.  When I don't need them, I put them into a plastic bag and store them in a closet.   It is easy… but for those who own so many flip-flops, how are they keeping flip-flops?   Here are the solutions!
1. In a shoe box
The best way to organize flip-flops is just to use a shoe box that comes when you buy shoes.  A few pairs would fit them. You can store the box in a closet, garage, shoe cabinet or anywhere. Personally, I don't like to have boxes in a visible place, so this option is good for storing shoes for a few months when they are not used.
Instead of a shoe box, a basket or a file box can be used. For nice flip flops, you can use the clear plastic shoe box to protect them.  Be creative!
2. Hang
Hanging flip-flops are another common ways to store them. Flip-flops tend to be dirtier so I would clean them before hanging them in the closet to avoid dirt on the floor and to avoid spreading dirt to other clothes.
The over-the-door type may be suitable if you have a door near the entrance so that you can put on them before you go out. Most common over-the-door hanging shoes storage is the one with clear pockets which can hold 12-36 pairs of shoes (check the details in this blog). However, there are hangers that designed for flip-flops.
PerfectCurve Flip-Flop Rack 
PerfectCurve Flip-Flop Rack is an excellent option since it hangs over a door or wall or from a ceiling or closet rod.  You can maximize the vertical space.  You can dry them too unlike the over-the-door hanging shoe with pockets.
Flip Flop and Sandal Hanger By Boottique Hooks 
Flip Flop Hanger By Boottique can hook in your closet to store 6 pairs of your sandal or flip-flops.  You can choose from Black and white polka dot, Plush Pink Velvet Ribbon or Plush Black Velvet Ribbon too!
Flop Flop Hanger
Plastic Innocent multifunctional flip-flops holders may be not well made, but comes with a bundle and reasonable option to hang flip flops.
3. Slipper Holder
Slipper holder such as this is useful to keep flip-flops that you usually wear.  The holder can be attached to the backside of the cabinet door too. 
4. Outside
Want to dry flip-flops?  Don't want to bring sandy flip-flops to the house? Then, you can have some kind of outdoor shoe rack, where you can take off shoes.   
Super Compact Shoe Rack with two legs
Super Compact Shoe Rack by AJs Furnishings is very compact and has a table.  It is hand-made and the person who makes says "This is an evolution in my shoe rack and table design"  He has improved the design over time and came to this rack!
Flip Flop Wood Metal Wall Hook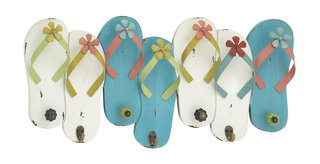 Isn't is fun to hang your flip-flop to this cute flip-flop design wall hook?  Flip Flop Wood Metal Wall Hook has six hooks and would be a unique addition to your entryway.