Tilt-out Shoe Cabinet Pros and Cons
I use a Coaster Shoe Cabinet, whose drawers tilt open and have a wire rack inside for additional organization. This type of shoe cabinet does not have a specific name, usually called tilt-out, flip-down, front-down etc.. It looks modern and has only an 11-inch depth, so the cabinet is ideal to fit a narrow space. The material looks a bit cheap but you can't expect much at this price.
Overall the cabinet looks good, storing a lot of shoes without a mess at the entryway. But the bad part was its assembly. It was hard… I knew that this kind of furniture would break so quickly if you don't assemble it correctly. So I asked a professional to assemble it, but still, he could not align the shelf on the first try. He was able to assemble well after he ordered some parts from the manufacturer. He said that it was not easy. I was happy that I did not do it myself.
Once I start using it, I noticed that shoes are flattened because the height is so narrow. Also when you store only a few shoes they go everywhere inside the cabinet. Kids' shoe is easily lost in this cabinet. (they are found on the bottom, usually)
However, it still does the job if you store three or four shoes in each component. High-heels fit well!
---
Here is the summary of the Pros and Cons of the tilt-out type of shoe cabinet
Pros
Cons
– Double the spaces compared with regular shoe cabinets
– Slim and great for small space
– Assembly is not easy
– Big or small shoes may not fit well
– Shoes may get lost inside
Tilt-out drawer shoe cabinet can store more shoes than the same size of the regular shoe cabinet. If you can't decide which shoe cabinets are good for you, read the blog "which types of shoe storage is right for you?" first!
IKEA Tilt-Out Shoe Cabinets
I reviewed Coaster Shoe Cabinet. However, similar cabinets are commonly available from different manufacturers, particularly Ikea has a few different style.
Ikea HEMNES: One of the popular shoe cabinets in IKEA is HEMNES shoe cabinet with 2 compartments. This is popular because it has an additional drawer on top that can store keys etc in addition to the two tilt-down style compartments. Ikea has various styles of tilt-out shoe cabinets, BRUSALI or BISSA or STALL or TRONES, and comes in white, brown, or black colors. Keep in mind that they have to be fastened to the wall.
IKEA style Tilt-Out Shoe Cabinets
Ikea style ones are available from different manifatureus, and here are some.
Tribesigns shoe cabinet: SImilar to IKEA Hemnes in the looking, but four legs make the furniture sturdy.
Tvilum Bright shoe storage cabinet: This cabinet comes with two drawers with a magnetic locking mechanism for quick access to the shoes.
Tilt-out shoe cabinets- more choices!
Industrial look
17 Stories 18 Pair Shoe Storage Cabinet: Made from engineered wood and metals, this three-tier shoe cabinet gives industrial charms to your room.
Additional storage space
FUFU &GAGShoe Storage Cabinet: This cabinet has a space to hold a pair of boot, and the bottom of the cabinet is open for easy access to everyday shoes.
Natural Rattan
Natural Rattan Shoe cabinet: This cabinet comes with metal bases that can be fixed against the wall with only two metal feet, or can be placed independently with four feet. Three-door is also available.
No assembly required
It is not easy to find a tilt-out shoe cabinet that does not require assembly. So I am searching it quite often and updating this section. They are usually more expensive than assembly-required ones, but I believe it is worth it.
Both below looks modern and beautiful!. Shoe Storage Cabinet with Bench is very unique. The bench comes down when you push a button. Shoe Storage Cabinet 17-Pair 2 Doors with Shelves & Pull-Down Drawers is also a great-looking shoe cabinet with ample of storage spaces. White is the only available color now, unfortunately.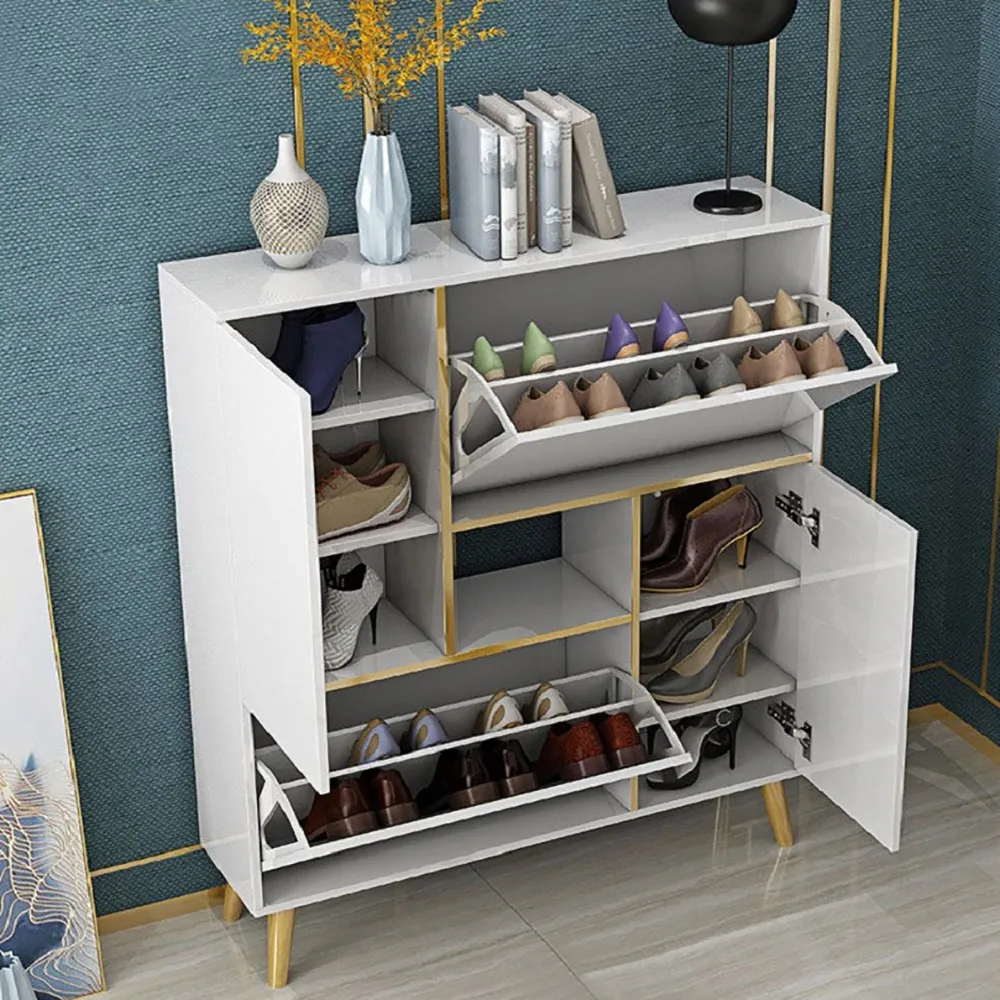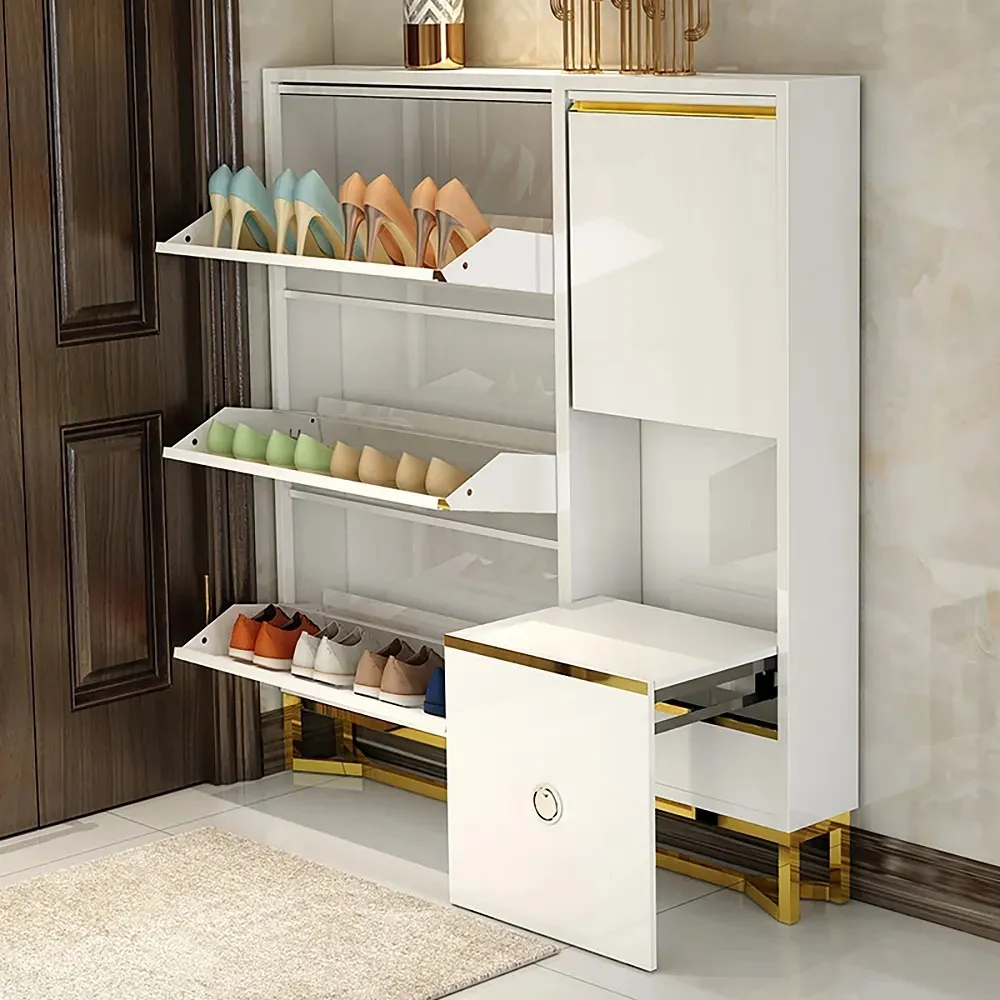 Vintage
Wall-mounted